! Website for the USS James E. Kyes (DD-787) Association >
USS James E. Kyes (DD-787) Association
Charleston, South Carolina - September, 2015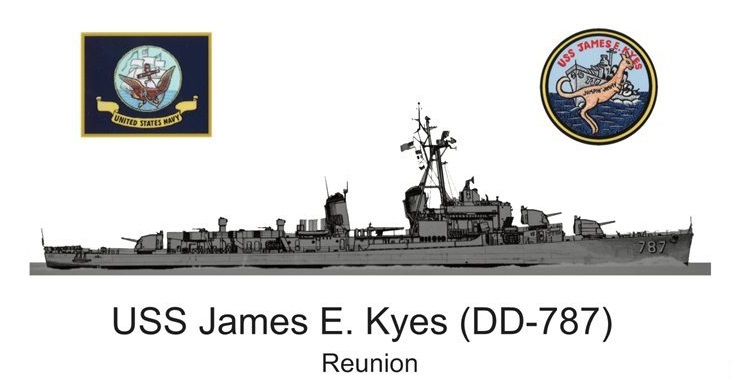 This year, our reunion is being held at the Radisson Charleston Airport Hotel in Charleston, South Carolina.

Reunite with your shipmates and share photos, cruise books, videos and stories about our great adventure on the high seas.

There will be shipmates who served on board during the Korean War and the Vietnam War and possibly even some plank owners who served in WW-II.
If you like U.S. Naval History,then this is a way to talk with your shipmates about America's
greatest generation and their contribution during World War II.

There will be a 4 foot long replica of the USS James E. Kyes as it was in 1969 during its service in the Gulf of Tonkin, Vietnam.

Join Kyes shipmates who were on board on June 3, 1969, the day that Kyes shipmates witnessed
the aftermath of the tragic sinking of the USS Frank E. Evans (DD-754).
We will have a memorial service dedicated to the lost 74. Rick Warden will bring the flag that he rescued from the Evans on that day.

Attend the DASH Training School and earn your DASH certification.

There will be fun activities and games with prizes.

There will be a 50/50 raffle and many more raffle items.

Visit Fort Sumter, Patriots Point and Old Charleston.
Tour the USS Yorktown (CV-10) and USS Laffey (DD-724) "The ship that would not die"

Click here to view the Reunion Agenda
Click here to RSVP

The Radisson was chosen for its location, its ability to handle up to 100 shipmates, and the professionalism of the staff.
They have a lot of experience with military reunions.
We arranged the following special rates for reunion attendees.


$99.00 per day for single or double occupancy.
Additional $5 per person for breakfast.
There will be a hospitality suite for us to hangout and tell our stories.
You can even live stream audio your stories to shipmates who cannot attend.
We will be mailing a form to fill out for the reunion to choose which
events and dinner items you will want, plus the number of guests.
Please send an email, call or fill out the RSVP form if you are wanting to attend so we can mail you the form.
If you have questions about the upcoming reunion, don't hesitate to email or call us.

Roger Donnay, Secretary
208-867-6091
rogerdonnay@donnay-software.com

Rick Warden, President
417-358-2505
rickwarden@suddenlink.net

The Radisson Charleston Airport Hotel
800-333-3333
rhi_ncha@radisson.com

Reunion Comittee:

David MacMorran
Roger Donnay
Rick Warden
Montie Ocha
Dan Dale
Bill Golden
Darwin Sietsema

The above committee members were chosen at the last reunion to represent USS JEK shipmates and to choose the next reunion location and dates. We voted and decided that Charleston, SC is an ideal location for a reunion because it has great naval history and is also considered to be the most ideal place to live in America. Let's find out what all the hoopla is about.

More information will be posted here as it becomes available.